EMOS/ MOS Study plan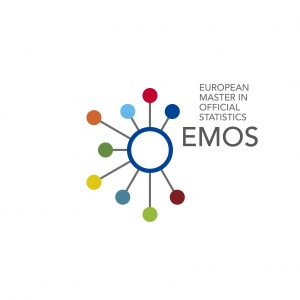 2 full-time years (4 semesters)
classes are usually held on working days – Monday to Friday – and on weekly basis; regular attendance is expected from students
Total workload (credits) – 120 ECTS
Class format – lectures  and seminars
A usual class duration is 90 minutes (ie two teaching hours; one teaching hour lasts 45 minutes).
Compulsory/core courses – 54 + 33 +12 ECTS
1st Semester
Economic Demography I (3 ECTS) – 4DM465
Economic Statistics (6 ECTS) – 4ES611
Introduction to Data Analysis with R and SQL (3 ECTS) – 4ST604
National Accounting: Concept and Analyses (6 ECTS) – 4ES618
Official Statistics (3 ECTS) – 4ES612
Probability and Mathematical Statistics I (6 ECTS) – 4ST621
Survey Methodology (3 ECTS) – 4ES610
Use MS Excel in Business Practice (3 ECTS) – 4IT522
2nd Semester
Internship in State Statistical Service  + Master Thesis Project (30 + 3 ECTS)
3rd Semester
Advanced Econometrics 1 (6 ECTS) – 4EK608
4th Semester
Regression (6 ECTS) – 4ST616
Time Series (6 ECTS) – 4ST631
Understanding Economic and Social Indicators (3 ECTS) – 4ES526
State Exam and Thesis Defence (6 + 6 ECTS) – OS + 4ODP
Elective/optional courses – min. 21 ECTS
Advanced Statistical Methods (3 ECTS) – 4ST650
Applied Multivariate Statistics (6ECTS) – 4ST611
Case Studies in Operations Research (6 ECTS)– 4EK607
Combinatorial Optimization (6 ECTS) – 4EK605
Czech for Foreigners (4 ECTS) – 4SA628
Data Science in Python and R (6 ECTS) – 4IZ565
Economic Demography II (6 ECTS) – 4DM475
Information Systems Management (3 ECTS) – 4SA431
Information Technologies in Entrepreneurship (6 ECTS) – 4IT487
International Finance (6 ECTS) – 1MT491
Introduction to Financial and Insurance Mathematics (6 ECTS) – 4ST608
Multiple Criteria Decision Making (6 ECTS) – 4EK606
Project Management (3 ECTS) – 4EK603
Real Data Analysis (6ECTS) – 4ST606
Statistics with R (3ECTS) – 4ST605
International Week courses (3 ECTS) – intensive courses in January
Internship
Compulsory part of the Master in Official Statistics represents long term internship. According to the study plan students have to attend internship in some of the official statistic institution in the Czech Republic or European Union during the second semester of their study.
Internship is the minor specialization which is devoted only to MOS students and covers 30 credits.
Internship gives you the opportunity to deepen your knowledge and skills in a practice.
Internship is splitted to two parts:
Practical training at the institution for 320 hours worked (12 credits).
Project (for 18 credits) which is developed during the internship under supervision of one teacher and one expert from the institution where the internship was realised.
| | |
| --- | --- |
| DATES for MOS Class | |
| deadline for submission of the Project |  Saturday 31 October 2020 |
| Project defend (MOS Minor State Exam) |  November 2020 |
Courses without credits
Sport courses
Czech language courses:
Elementery Czech for Foreigners (A2) – 2RU131, Basic Czech for Foreigners (A1) – 2RU135, Elementary Czech for Russian speaking Foreigners (A2) – 2RU138, Czech for Foreign students 1 (3 ECTS) 2RU140 + following course Czech for Foreign students 2 (3 ECTS) 2RU141