TRIP to Nelahozeves Castle for ISM and EDA students – updated
The FIS Masters Office would like to invite all ISM and EDA students for a Saturday's trip (date changed to October 7).
We will take a train from Prague to Kralupy nad Vltavou, then walk to Nelahozeves and visit the Nelahozeves Castle. Afterwards we will visit the castle park in Veltrusy and walk back to Kralupy.
Here is the planned route (app. 13-14 km)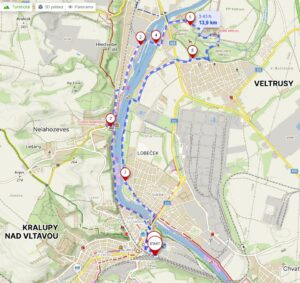 What you can expect?
A great day spent with your classmates.
A nice walk,  along the Vltava river.
A visit of the Nelahozeves Castle.
Timeschedule?
meeting time: Saturday, October 7, 8:45 at the Masaryk railway station, Prague
return back to Prague: around 5-6pm
Take a packed lunch with! Travel costs and the guided tour will be covered by the FIS Masters office.
Registrations are open till Tuesday, September 26. The registrations are binding  – if you are not sure, if you can come, don' t register or register later. We need to know the exact number of attending students.