VŠE at the education fair IEFT in Istanbul
VŠE  attended the International Education Fair in Istanbul –  November 10-12, 2023.
Friday, November 10, 1-6pm – Hilton Istanbul Kozyatağı (Istanbul Asian side)

Saturday-Sunday, November 11-12, 1-6pm – Hilton Istanbul Bosphorus (Istanbul European side)
We were at the stand of STUDY in PRAGUE.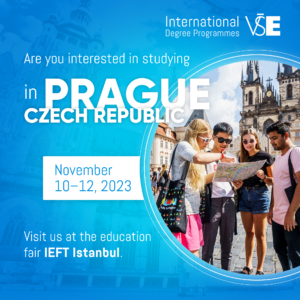 What can you study at VŠE in English?
Bachelor Programs
Bachelor of Business Administration
Bachelor of Economic Data Science
Bachelor of Economics
Bachelor of International and Diplomatic Studies
Bachelor of International Business
Master Programs
Economics and Public Policy
Economic Data Analysis
International and Diplomatic Studies
International Business – Central Europen Business Realities
International Management (CEMS)
Information Systems Management
Master in Finance and Accounting
Master in Management