VŠE Representative Ball
We have traditionally organized the VŠE Ball for you since 2010. Every year, more than 3,500 guests – students, graduates, employees, school partners and their friends – take part in the Ball. Together we create one of the largest balls in Europe. Just like in previous years, this year you can expect an amazing entertainment in the form of great music, dance and orchestra. At the same time, you can look forward to the performances of the best participants in the VŠE Talent competition and the announcement of the VŠE Athlete of the Year.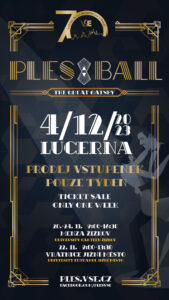 UPCOMING BALL:
The Representative Ball will take place in Prague's Lucerna Palace on 4th December 2023.
This year's theme is GREAT GATSBY. Get inspired by Daisy and Gatsby's elegant wardrobe and experience the atmosphere of the famous Long Island parties with us. A night of the roaring 20s awaits you!
Tickets for the VŠE Representative Ball can be purchased on the following dates:
November 20th – 24th from 9.00 to 16.30 next to the canteen – Žižkov.
November 22nd from 9.00 to 13.30 at the entrance – Jižní Město.
Category Standard is available for 450 Kč. (standing)
Category Gold is available for 700 Kč. (seating)
We accept payments both in cash and card.
*Limited amount of tickets can be also purchased online on the Ticketportal website.*