Information for newly accepted students – updated on May 29
These are information for students, who have been already accepted to studies, passed the admission exam.
CORONAVIRUS UPDATES – VISA, BORDERS,  UNIVERSITY
The coronavirus situation nowadays complicates our lives everywhere, also in Prague. The schools and universities were closed for two months in the Czech Republic, we taught online per video lectures and other online tools, borders have been closed.  The number of infected people is decreasing now, the government measures are being released.
Just now some Embassies have been already opened and accept Visa applications. Please
check here
the situation at the Embassy in your country.
In case there would be some problems with
Visa
applications, we will solve it individually.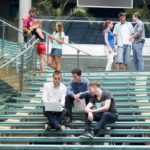 Start to prepare your Visa application ASAP!

The Visa procedure takes 60 days after final submission of your Visa application. You have in fact two options –  long-term

Visa

for studies or long-term residence permit.

Submit the application for dorms! The applications will be open from 5th June to 5th July, fill in the online form in ISKAM, pay the booking deposit.

Arrange your health insurance for your stay in Prague! Visa students need to contract an insurance according to a special legal regulation. Prepare your insurance after your Visa application will be approved.

Have you already read our Blog? Our student shares tips for a good trip in and outside of Prague. Interested to get any other information about Prague?

Arrange your plane ticket to Prague. Moving into dormitories will be possible from 14th September.

Will you come for the first time to Prague? Would you like to get some help from our current students?  ASK FOR A BUDDY! (information will be available in June)

Orientation Week – 16-18 September! Registration to studies is planned for Wednesday September 16th, we organize also introductory presentations on studies, living in Prague and study rules.

The lectures start on Monday September 21. Find detailed information here in the academic calendar.